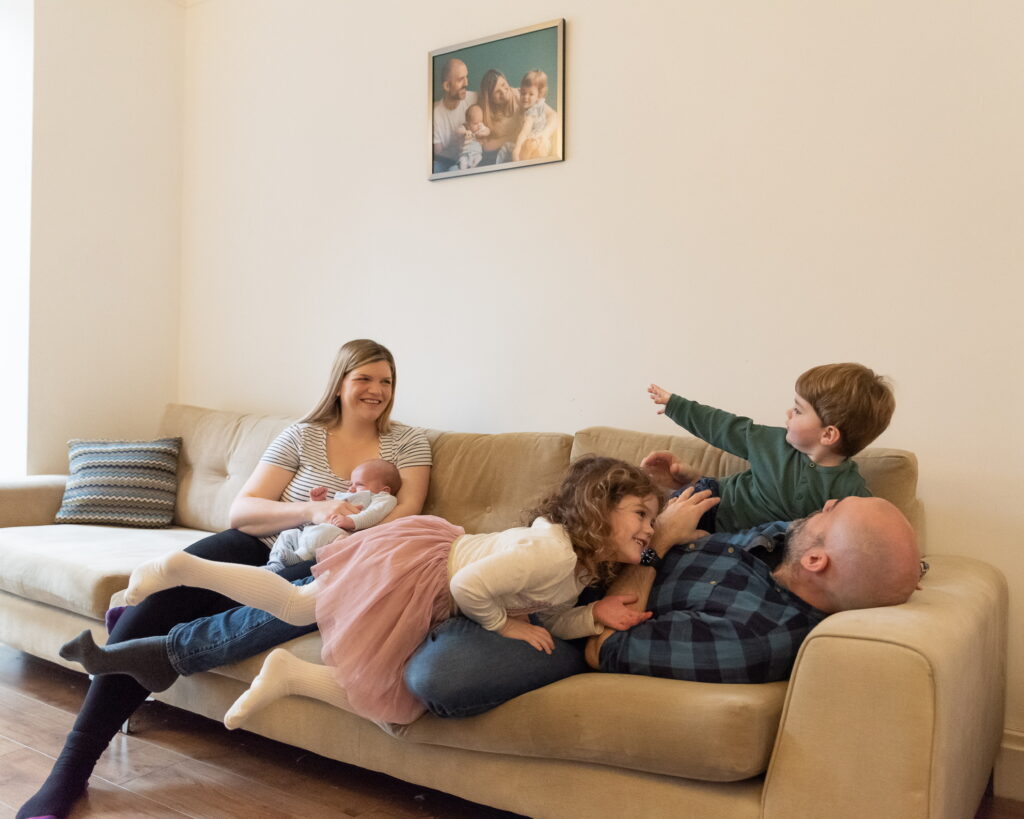 When former session singer Cathy Birkett decided it was time for a new venture, little did she know that the answer had been right under her nose. No stranger to the benefits that Stagecoach has on its students and franchisees – she first started her Stagecoach Performing Arts journey as a singing teacher at just 17 – Cathy jumped at the opportunity to become a Principal herself and invested in Stagecoach Stockport in 2011. After selling her territory in 2022 and a brief stint away from the network, it was not long before the mum of three would return to Stagecoach. Now, Cathy is exceeding expectations in her first term as Principal of Stagecoach Urmston.
After obtaining a BA Hons degree in Performing Arts from Salford University, Cathy moved to London to
pursue a singing career. She subsequently became a big part of the British music scene, working as a session and backing singer for The Specials, Beverley Knight, Peter Andre and Russell Watson – to name but a few. All the while, Cathy's passion for inspiring the next generation of performers would see her continue to teach at Stagecoach schools across London.
"I had a considerable amount of success in my singing career when I was in London. I did some gigging and backing for some big names, including the CK Gospel Choir. I then had the opportunity in 2011 to perform at the 'Biggest Band' show at Wembley Stadium and at the one-year countdown to the Olympics show at Trafalgar Square for the BBC. After that, I knew it couldn't get any better, so I started to consider
what to do next."
Off the back of rubbing shoulders with big stars in London, and after four years living away from her
hometown, Cathy decided the time was right to return home.
"I was on the phone with my friend who owned Stagecoach Stockport, the one I originally taught at when I was 17. I told her I felt like I might be making a stupid decision by leaving such a great career in London, so I needed something I could come back to. She said she was actually looking to sell up as she was moving back home to family herself, so I said I'd buy it off her!
"I felt immediately reassured because Stagecoach had already been such a big part of my life. I first joined Stagecoach when my singing tutor at the time mentioned that Stagecoach Stockport was looking for a new singing teacher. I've always loved singing and loved kids, so becoming a singing teacher just seemed like the perfect merging of the two. After my first couple of days, I loved it – the team, the vibe, how enthusiastic the kids were. So, when the opportunity came up to buy my own school, it felt like the perfect fit."
For nearly 35 years, the Stagecoach model has been proven and refined to become one of the UK's leading performing arts opportunities. Franchisees build a team of equally passionate and enthusiastic teachers, qualified to bring out the very best in their students. Stagecoach schools provide a thriving, nurturing and supportive environment for creative learning. That is just one of the reasons that 55,000 children every week flock to classes worldwide.
Today, a network of more than 300 franchisees operates over 3,000 schools and classes in eight countries. Through an exciting and varied framework of teaching and development, franchisees have helped to unlock the potential of more than one million students since the first Stagecoach Performing Arts school opened in 1988.
After 12 successful years as Principal at Stagecoach Stockport, and now a mum to three small children, Cathy decided it was time for something new – or so she thought.
"As my eldest was starting primary school, I contemplated a Monday-to-Friday job to spend more time with my family on weekends. I sold Stagecoach Stockport, but after researching other businesses to invest in, I soon realised I had made a massive mistake. I was looking for a job that would provide my family with a certain income and time for me to spend at home with my kids, all benefits that being a franchisee at Stagecoach previously offered. I phoned my former franchise manager, told them I bitterly regretted leaving and asked if I could buy back into the network. That's when the opportunity to invest in a new greenfield location in Urmston came up, and as it was local, it felt like it was just meant to be."
All new franchisees are given comprehensive training and industry-leading support in marketing, customer service, IT and business development. Stagecoach's tried-and-tested business model enables franchisees to play to their strengths and provides the best possible environment in which to succeed.
"As I had already been a Principal, I knew a lot about the running of a Stagecoach school, but I still received the initial training that I first undertook when I invested in Stagecoach Stockport when I invested in Urmston. It was so helpful to go over the training again, especially as new aspects such as marketing play a more integral part in the programme and is invaluable in the current market landscape. There is always someone on hand if you have questions or concerns, and you always feel supported along the way."
Since re-joining the network, Cathy values the benefits of the Stagecoach business model and the effective work-life balance it offers.
"Before I had children, I could start my day whenever I wanted to, go to the gym, read books, do a couple of hours of admin a day and then socialise with friends in the evening. Since having children, it's more of a juggle, but I still think being a Stagecoach franchisee is one of the best jobs you can have whilst supporting a young family. I can take my kids to and from school, and I'm on hand most of the time when they need me. I'm at my school on weekends, but my eldest now comes along, as will my second when he turns four. It's the best of both worlds! It takes a lot of work and determination to get that balance, but once you're fully set up, I really can't fault it."
In her first term after re-joining the network, Cathy is seeing incredible results at Stagecoach Urmston. Now, she looks to further capitalise on the demand she's seen in her territory.
"I was already sitting at 27 Main Stage students on my first day and opened three Early Stages in my first
week to respond to demand. It was all a bit overwhelming but in a very positive way. In my current school in Sale, I want to open a Thursday, Friday, Saturday, and Sunday school and the same at a different location within Urmston. Eventually, I would love to expand and potentially invest in another territory."
Whilst acknowledging all of the incredible benefits being a Principal has on her life, Cathy says making a
difference to her students' lives makes being a franchisee so rewarding.
"The sense of pride I get knowing I'm positively impacting children's lives is one of the best things about being a franchisee. I know my school serves as a place where some children feel they can escape the everyday pressures they face, so I'm always ensuring that fun is at the heart of everything we do. If you just focus on making your school fun, safe and inclusive environment, you're 85% of the way there."
If, like Cathy, you are looking for a business which gives a great income, even greater flexibility and an outlet for your love of performing arts, find out more about  Franchise opportunities with Stagecoach here.